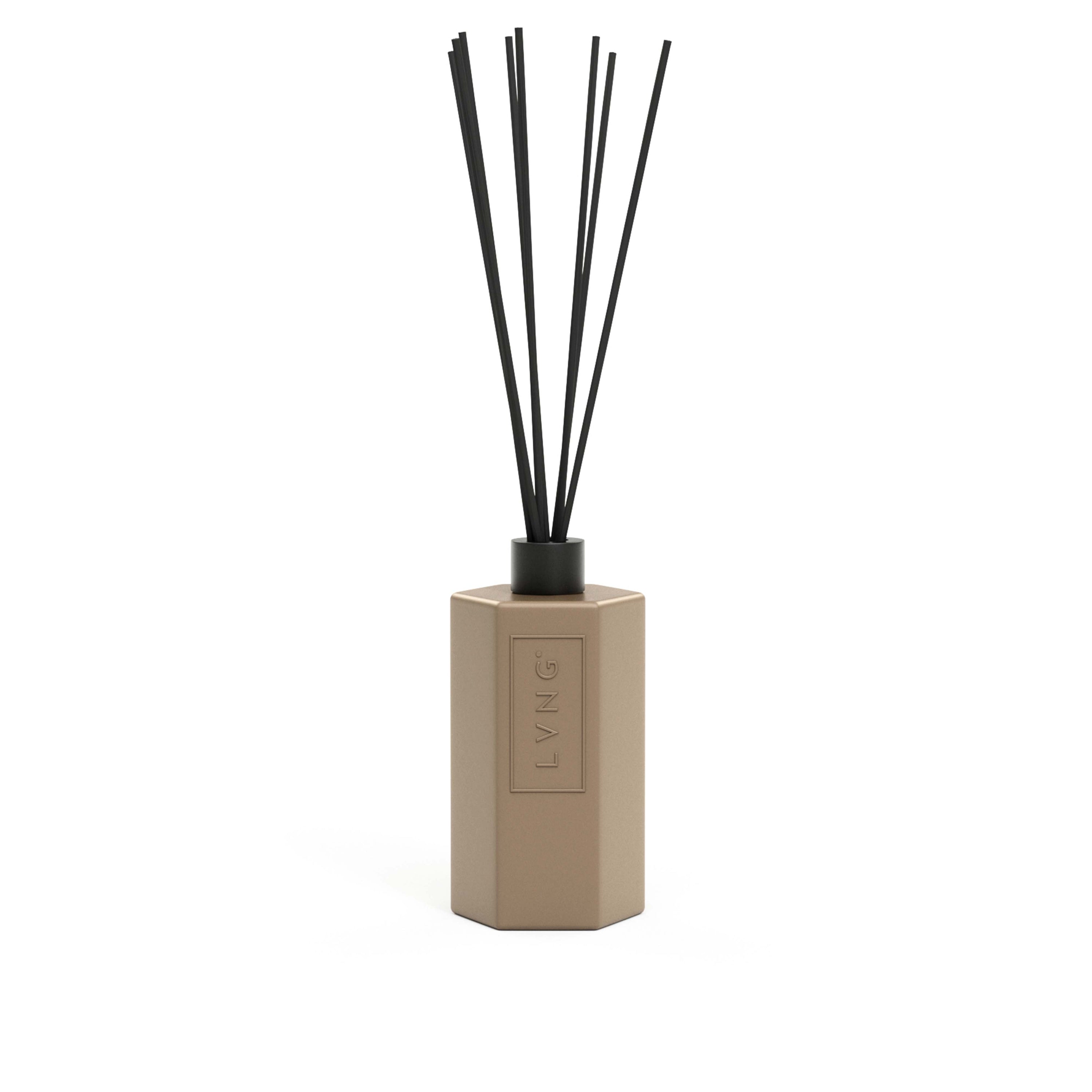 Discover Casablanca with the LVNG Home Diffuser:
- Casablanca Home Diffuser - 270ml
The LVNG Home Diffuser provides an odor improvement in the home and a long-lasting experience. Made with a green responsible base. Sustainable, renewable and not harmful to humans, animals and the environment.
CASABLANCA is a warm, sultry scent. With refined notes of saffron and cedar wood and a sweet twist. Varied and vibrant, just like the Moroccan metropolis.
Use the LVNG Home Diffuser in combination with the other products from the Casablanca collection. This way the scent returns throughout the house and is enhanced during the day. Unite the scents in your home into a unity. Fragrance unit.
Vegan & Cruelty Free

Clean Ingredients

Refillable Sugar Cane Bottle

Manufactured in Europe
Fragrance
Top notes: Italian Bergamot
Heart notes: Saffron, Dried fruit, Honey
Base notes: Amber, Tonka Beans, Tobacco Leaves, Musk, Cedarwood

Ingredients
1-(2,6,6-trimethyl-1,3-cyclohexadien-1-yl)-2-buten-1-one; Eugenol; (Z)-3,4,5,6,6-pentamethylhept-3-en-2-one; Linalyl acetate; 4-tert-butylcyclohexyl acetate; [3R-(3α,3aβ,7β,8aα)]-1-(2,3,4,7,8,8a-hexahydro-3,6,8,8-tetramethyl-1H-3a,7-methanoazulen-5 -yl)ethan-1-one; linalool; 3,7-dimethyl-1,6-octadien-3-ol; dl-linalool; Methyl 2,4-dihydroxy-3,6-dimethylbenzoate; 1-methyl-1-((3S,8S)-1,2,3,4,5,6,7,8-octahydro-3,8-dimethylazulen-5-yl)ethyl acetate.
Responsibility
The LVNG Home Diffuser consists of a new natural formula. Free from microplastics and also inherently biodegradable. For a long-lasting fragrance experience.

LVNG is CO2 neutrally produced in the Netherlands and FSC® certified.

The bottle is made of sugar cane-based plastic. This climate-friendly material is made from renewable raw materials. Sugar cane grows through carbon dioxide (CO2). This is obtained from the air. Refills will follow.
Instructions for use
The LVNG Home Diffuser comes with 8 rattan sticks. Place at least 3 sticks in the bottle. Placing multiple sticks provides a more powerful scent experience. The fragrance sticks absorb the liquid from the bottle and spread a pleasant scent in any desired room.
Voor 16.00 besteld, dezelfde dag verzonden

Gratis Home Care sample bij iedere order

Gratis verzending vanaf €35

Beoordeling 4,7 van 5
Casablanca Home Diffuser